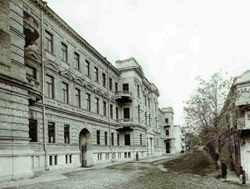 Blending organically with the acting of the ancient and picturesque Mtatsminda quarter, here the inimitable charm of Tbilisi streets and lanes is especially felt, the building of the Supreme Court of Georgia stands at some three minutes walk from Rustaveli Avenue, the main thoroughfare of the Georgian capital founded fifteen centuries ago.
Even a cursory glance at the building will tell the viewers that it is an outstanding example of classical architecture, helping them from an idea of the capital of Georgia. For architecture does not need to be "translated into another language", reflecting clearly not only the nation's cultural and intellectual level but the country's technical potentials as well.
The architectural forms, prevalent at the time in Western Europe and largely based on the Renaissance-Baroque style, were taking root in Tbilisi as well as in the whole of the Russian Empire. It was in the period under discussion that a decision was taken by the city authorities to have several buildings erected in the then Golovin Avenue and the adjoining Mtatsminda quarter. Later these buildings largely determined the aspect of the capital, serving as a kind of business card.
David Kheltuplishvili
Galaktion Vashadze 1880-1938
Konstantine Tsintsadze 1886-1931
Alexander Kacharava 1896-1937
Ilarion Talakhadze 1894-1962
Ivane Bolkvadze 1879-1938
Mikheil Isakadze 1896-1970
Akaki Javakhia 1901-1972
Mikheil Lomidze 1899-1977
Boris Purtskhvanidze 1901-1984
Isidore Dolidze 1915-1982
Mikheil Vepkhvadze 1923-1974
Emen Takidze 1910
Vladimer Maisuradze 1923-1986
Sergo Kajaia 1908-1988
Akaki Karanadze 1927-1992
Mindia Ugrekhelidze 1942
Lado Chanturia 1963
Konstantine Kemularia 1954
Konstantine Kublashvili 1973
Nino Gvenetadze 1964